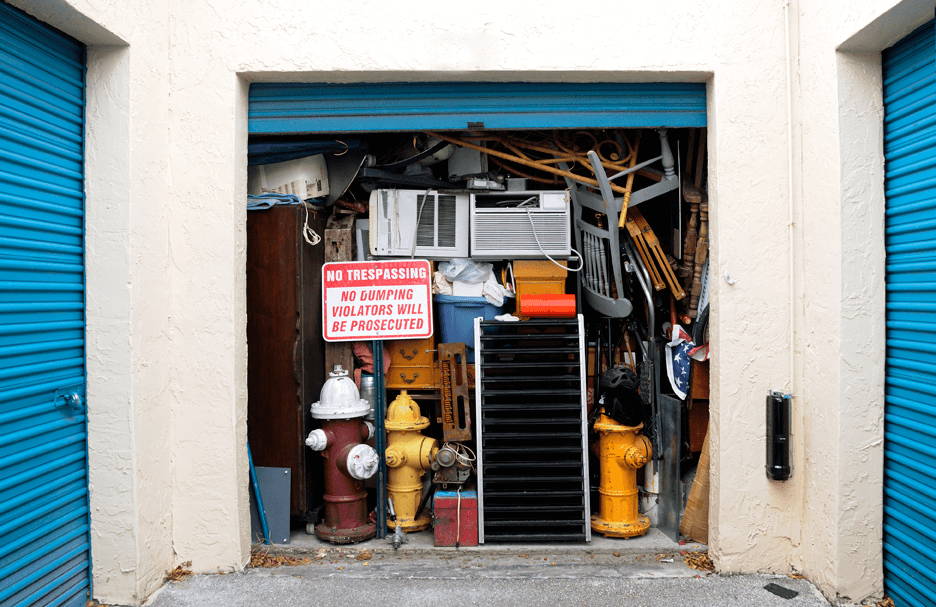 Chapter 10: Why Rent-to-Own Sheds Win Every Time over Storage Units

We Americans love our stuff. We love activities that involve tools, memorabilia, boats, bikes, holiday decorations, and hobby supplies. Unfortunately, all this stuff can easily end up crammed in corners and closets, where it's hard to get to and easy to forget.
There's a special name for too much stuff—it's clutter.
Clutter is a big business. In fact, 9% of U.S. households rent a self-storage unit, according to the Self-Storage Association.* Some people use self-storage to deal with temporary changes in their lives, but the majority say they need more space. Of these folks, 30% rent for two years or more.
But is renting a storage unit a good use for your money? What if you could apply that rental payment to a beautiful storage building that helps you manage your clutter, not hide it away? And on top of it, you can add convenience, increase the appearance and value of your property, and enjoy multiple uses that no storage unit can provide.

Consider the advantages that a rent-to-own storage building or shed has over a storage unit:
Clutter No More!
An attractive storage building is a great incentive to organize your belongings and get rid of the things that are worn, outdated, or just plain unnecessary. Rather than being hidden away, the items you choose to keep are valued and used on a regular basis.
Added Convenience
Are you heading out for some white-water kayaking or starting a woodworking project? Your equipment is ready for action, without having to drive to the storage facility or wait for it to open.
An Activity Center
A shed or storage building is more than just storage. It can also function as a workshop, potting shed, or craft studio. Plan your storage building or shed.
Increase the Value of Your Property
Every realtor will tell you that when you come to sell a home, clutter is a major drawback. A beautiful, well-organized storage shed will be a selling point.
Enhance Your Backyard
Imagine a shed as a new focal point in your backyard. Use it as an outdoor living space for entertaining with your own landscaping, seating, and a grill or firepit.
Man Cave vs. She Shed?
No self-storage unit can give you the satisfaction of a space that you can personalize as your own retreat. And at the end of the day, you'll have a place to store grill tools, summer furniture, and more!
Decluttering Resources
Overwhelmed by your stuff? There are lots of professional organizers, books, and websites that can help you tackle the job. Here are a few that we like:

Organizedhome.com
National Association of Professional Organizers
Marie Kondo, The Life-Changing Magic of Tidying Up
Karen Kingston, Clear your Clutter with Feng Shui
Ad illum putant quo, porro ridens pro ex. Officiis insolens gubergren eam at, mei ut nobis verear quaestio. Sea accusam scaevola an
Ad illum putant quo, porro ridens pro ex. Officiis insolens gubergren eam at, mei ut nobis verear quaestio. Sea accusam scaevola an Ad illum putant quo, porro ridens pro ex. Officiis insolens gubergren eam at, mei ut nobis verear quaestio. Sea accusam scaevola an December 03, 2014 :: 7 comments
Vis nobis blandit mandamus eu, nobis verear dignissim ea pro. Eu nam solum libris, no sed ridens similique moderatius, pri quis nibh dolorum te. Vix meis disputando et, lorem viris omnium ei qui, ne eum nonumy epicurei
December 03, 2014 :: 7 comments
Ad illum putant quo, porro ridens pro ex. Officiis insolens gubergren eam at, mei ut nobis verear quaestio. Sea accusam scaevola an. Ne delicata facilisis nec. Veri clita disputando ne vix, ei nullam eleifend eloquentiam cum December 03, 2014 :: 7 comments
Qui dicat scribentur definitiones no, nominavi honestatis in sea. Cibo singulis mel in, in intellegat mediocritatem mei. Sea et falli erroribus, ius te aeque tantas lucilius. Ei choro putant laoreet per, cu fugit error aliquid duo
Lorem ipsum dolor sit amet, pro petentium consulatu cu, etiam numquam scriptorem sed ei. Mel labitur facilisi praesent ut, an brute facilisis has. Sea ne nusquam liberavisse, putent bonorum ut nam. Etiam homero an eam, postea nonumes qui ea