Chapter 12: How is a storage building or shed DELIVERED?

Leonard offers FREE Delivery

In most cases, Leonard offers FREE Delivery. Your shed will be delivered to your backyard, blocked & leveled, and set up for you to start moving your stuff in simply. It is hassle-free. The limitations are explained below.
There are three methods for which we can get your shed to where you want it placed:
Leonard Delivered

Customer Pickup
If you have any questions, please reach out to us by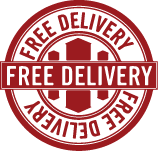 How is a fully constructed shed delivered?
It is quicker and less expensive if we can deliver the building to your backyard. Most of the time, we can, and we not only deliver the shed, but we block, level, and prepare the building so that you are ready to move stuff in.
In some markets, we deliver using new trailer technology that provides a lot of flexibility.
In other markets, we are testing the Mule to help out with tricky placement.
As you can see, it is no easy task, and no two projects are exactly the same. Generally, we load the building from our store onto a delivery truck (many cases these are roll-back trucks), which means the "bed" or floor of the truck is designed to shift and rotate to allow buildings to be winched up and then slide down for Delivery. Rarely are we able to drop the building exactly where it needs to be placed. Our experienced delivery drivers have tools that allow us to use leverage bars and rollers to shift the building into place. In some cases, we have to roll the building on pipes quite a distance. Once it is in place, we use house jacks to lift each corner of the shed enough for us to slide solid concrete blocks under the shed skids. Using different size blocks and shims, we are able to level the building in this process, allowing the doors to work properly. (see Leonard famous notch skid flooring system and see why a solid foundation is so important). Limitations to the FREE Delivery are simple. If we have to travel more than 30 miles from the store to the placement site, we ask for help in covering our costs. Also, there are cases where the delivery site is very difficult to reach and if the Delivery (once at the site) takes longer than the normal one hour or requires more than the standard set of blocks for leveling, we will also ask for your help covering this cost.
When does it make sense to pickup myself?
For smaller backyard structures like Chicken Coops, Dog Condo's, Dog Houses, Cat Houses, etc... some customers elect to pick up the unit themselves. An appropriate size trailer with a durable, low angle ramp is ideal. We can help you get it loaded, but you will be on your own to unload and place it. Why would I do this? Well, if you need it right away or if you live outside our free delivery area, then it may make some sense.
Tell me more about your kit offering?
Unfortunately, there is not much to talk about at the moment. We are working on it and will start with Playhouses & Dog Houses first. It is important to us that we get this right as we have not been too impressed with what we have seen on the market today. Usually, the way it works is the unit components are packaged on a pallet-sized friendly for the carriers. Some drop at the curb where you unpack and carry manageable size pieces to a construction site near the desired placement. Weight is a concern, and we plan on keeping our raw material standards, which will be tricky. Easy to follow instructions are important, as is the design, so that error opportunities are minimized. If it is important to you, ask, and if it makes sense, you can enter our pilot program.