Truck beds get a lot of use whether for weekday work or weekend adventure - it's one of the reasons you bought a truck. A spray-on truck bedliner offers complete protection during tough tasks. Unlike a drop-in bedliner that can come loose and scuff up the factory paint, urethane spray-in bedliners completely wrap around the contours of your truck. There are many benefits of a spray-on truck bedliner, including:
Protection from corrosion and UV fade
Maintains the resale value
Non-slip, skid-resistant design
A custom fit
Low maintenance
Easy repairs
Stylish looks
Leonard Truck Accessories can add a spray-on bedliner to any vehicle. The urethane material is environmentally safe with a near-perfect bond to metal, plastic, or fiberglass. It can withstand temperatures up to 350 degrees, resisting the heat of your truck and the equipment inside.
We have locations , throughout the Southeast and most of them offer spray truck liner installation by trained technicians. Call the nearest store and Get a Quote. We also do special spray projects such as cargo trailers, wheel wells, watercraft, and ladders.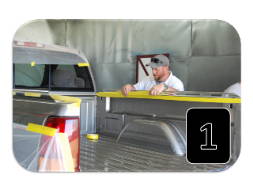 [STEP 1] the edges of the bed are skillfully masked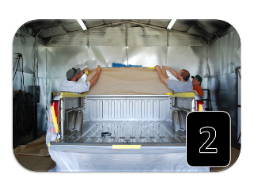 [STEP 2] the entire truck is covered to protect from overspray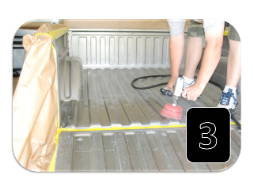 [STEP 3] the bed is wiped with a grease and wax remover and then scuffed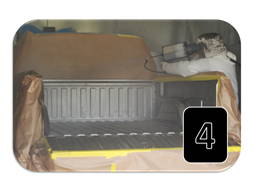 [STEP 4] the material is applied using a low-pressure system, and the material dries quickly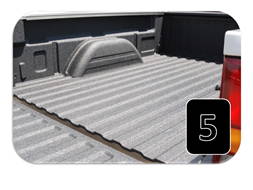 [STEP 5] the masking is removed. While the material dries quickly, it takes 24 - 48 hours before it is ready for heavy use.
| | | | |
| --- | --- | --- | --- |
| Features | Leonard Spray-On | Drop-In | DIY |
| | | | |
| | | | |
| | | | |
| | | | |
| Prevents Rust And Corrosion | | | |
| Available in Different Colors | | | |
| | | | |
| Consistent, Tough Surface | | | |
Spray-On Bedliner Material Suppliers

Perfect for protecting your most valuable assets from abrasion, corrosion, and impact. Similar to Line-X's XS-100™, our bed liners are made from a user-friendly polyurethane and polyurea formulation that has earned industry respect for its high-performance, long-lasting, and durable qualities protecting truck beds around the Southeast U.S. The bedliner we use was designed with the highest chemical equilibrium in its polymerization network - softness vs. hardness, toughness vs. longevity, durability vs. impact, etc
Talk to us about Special Spray Projects
We spray a lot more than just pick up truck beds: Our customers seek us out to spray this durable material onto just about anything.
Vehicles
Truck beds, rocker panels, running boards, step bars, cargo trailer interiors, van interiors, bumpers, canopies, rack systems, floorboards, wheel wells, bug shields, roll cages, RVs, motor homes, tow trucks and more . . .
Commercial & Industrial
Concert equipment, park & recreational equipment, trade show booths, signs of all kinds, tools, ladders, props, storefronts, workshop cabinets, pipe coatings, dump trucks, storage equipment, and more . . .
Outdoor Sports
ATV trailers, boat hulls, boat trailers, fenders & steps, oar tips, ladders, vents, buoys, boat docks, motorcycle bodies, golf carts, and more . . .
Farm & Agriculture
Farm equipment, Horse trailers, Livestock trailers, fertilizer handling & transport equipment, and much more . . .
Residential
Porch railings, patio furniture, dog houses, and other animal structures, fencing, gates, and some sound equipment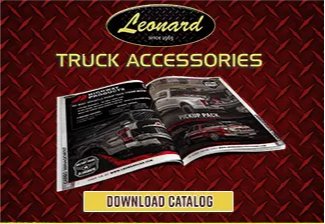 DOWNLOAD OUR NEW TRUCK ACCESSORY CATALOG

The latest Leonard truck accessories catalog is here and it is absolutely free. Whether you're a Ford, Chevrolet, Dodge, GMC, Toyota, Nissan, or Jeep owner, you will find the catalog contains a massive selection of parts. What we don't stock in our plus 70 stores, we will order for you promptly, and you can be sure that you will find what you are looking for in our Free Truck Catalog.