Leonard's Delivery Vehicle Systems Are Designed To Avoid Shipping Delivery Issues By Holding Boxes Securely In Place.

We know that delivering packages efficiently, with no damage, is one of your top concerns. Leonard's upfit packages for delivery service vehicles can alleviate those concerns. Our secure shelving systems for package delivery vehicles are designed to hold boxes in place – avoiding sliding, which can cause damage. Our expert team of installers ensures that your delivery service vehicle meets all your requirements. Our delivery vehicle shelving systems are specifically designed to avoid shipping delivery issues effectively. At Leonard, we're committed to using the best equipment with expert installation, to ensure maximum productivity and safety for your vehicles.
Build Options for Delivery Services Vehicles: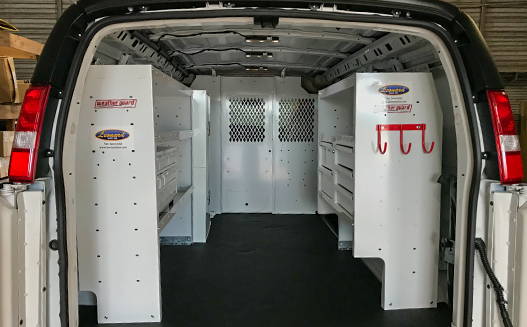 Drop Shelving
Slide-Out Rail Shelving Systems
Climate Control and Ventilation
Flooring and Partitions
Lift Gates
Serving USPS, FedEx, UPS, DHL, Amazon, & others
Want to Know More About Leonard's Upfitting Capabilities for Delivery Services Vehicles?

If you'd like to know more about Leonard's Commercial and Fleet services, please click the link below, then fill out the form and one of our skilled team members will contact you to discuss your needs. Thank you for your interest in Leonard!