Buying Guide Chapter 9: Free Site Check

If you don't think a shed will fit in your backyard, we are here to help.
Free Consultative Site-Check

In most cases, we will send out an experienced shed expert to walk the property with you. A trained eye will help assess the potential locations and determine placement and delivery options. Experience is also helpful in determining the size, style, door placement, and ramp requirements. We understand the room required for truck or truck & trailer deliveries and the best path to placement. We can help check for low wires, tree limbs, and branches, as well as septic systems, sprinkler systems, and other unmarked utility lines. We will discuss remedies for obstacles like fences, pathways, shrubbery, and other landscaping features. Note: For obvious reasons, we can not commit to a free consultation visit in every case, but where we can, the experience will be extremely valuable to your project's success
This schedule is subject change depending on the weather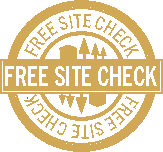 If you don't think a shed will fit in your backyard. We are here to help.