Chapter 5: What Is The Difference In Framing? Wood vs. Steel

Steel Frame vs Wood Frame Storage Buildings and Sheds

For most customers, a storage building's frame material is one of the most important decision factors. Customarily, steel frame construction is considerably more expensive than that of traditional wood framing; however, Leonard has been improving its steel bending and welding processes for over 50+ years. To this end, Leonard has driven the costs down so that the two are now comparable. Take a look below to see the advantages of both. Also, be sure to read more about siding and roof materials, which tend to be the primary cost drivers.
Whether you choose wood or steel, you will find that Leonard places a premium on strength and durability.
Wood frame storage building

Some people find wood frame storage buildings easier to modify post-delivery. Hanging wall finishes (paneling / sheet rock), shelving, or built-in cabinetry to wood frames is similar to adding it to your home. If you plan to insulate the building post delivery, you will find that normal house insulation fits nicely into the 2"x 4" walls. In some cases, neighborhood covenants or zoning statutes require wood frame structures, although, usually, these regulations only apply to the exterior material of storage buildings. Wood buildings also have a little sturdier feel due to their weight; however, the steel frame buildings offer a little more structural strength.
Steel frame storage building

People who buy Leonard's steel framed storage buildings typically do so because of the cleaner interior look and the strength per pound which they provide. The lighter but stronger frame is easier to move and holds up nicely even when relocated multiple times. Because the fame is made of galvanized steel it is naturally pest proof and resistant to moisture. This combination of strength and durability have earned Leonard's steel framed buildings a reputation for being the toughest portable building on the market.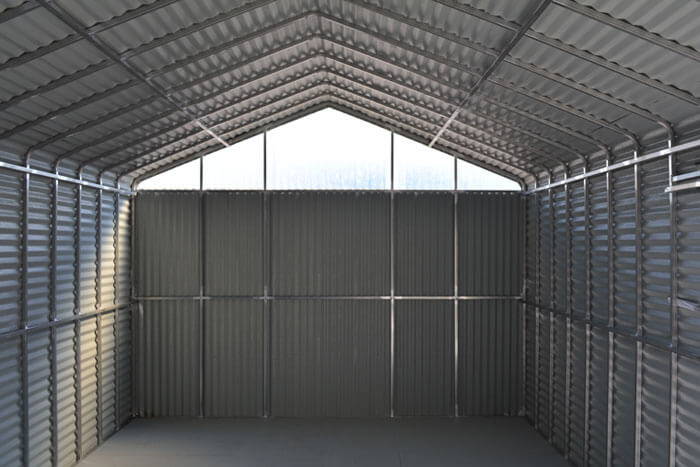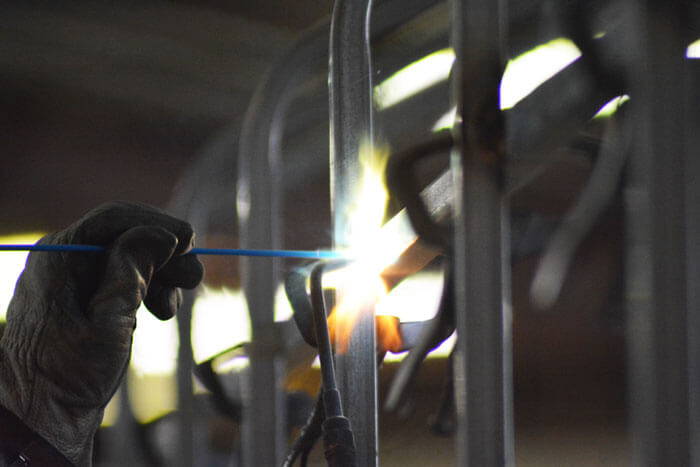 Leonard steel frame storage buildings use a cage construction scheme with single piece bent bows. All joints are skillfully hand welded to provide extraordinary strength. These 1"x1" metal tubes are placed on 24" centers and joined by interior cross members.
See examples of the frames under extreme stress.
The strength of Leonard's steel frame cage system