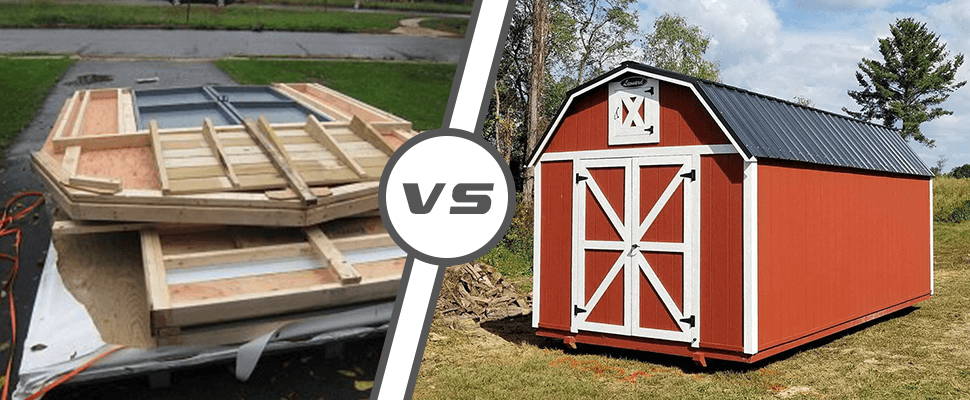 Chapter 11: Should You Choose a Shed Kit Vs. a Custom-Built Shed from a Manufacturer?

Shed kits are quite popular for promising new sheds for an unbeatable price. For just a few hours of work, you can get a great storage building. But is that the best option?
For some people, it is. But we still highly recommend a custom-built shed.
Here are a few reasons why you should consider a manufactured custom-built shed.
1. Shed kits have shorter lifespans –

Shed kits that you can find at retailers like Home Depot and Lowes have an average lifespan of 5-10 years. Comparing that to 30-year lifespans for custom-built sheds, you can see you are getting what you pay for when you choose this cheaper option. A large reason why shed kits only last a fraction of the time of custom-built sheds is because of cutting costs, especially in the materials.
Siding: Most of the time, these kits will have wood or plastic siding. If not treated correctly, the wood is susceptible to mold and rot, and plastic can crack in direct sunlight. Some shed kits will boast vinyl siding, but its often faux-vinyl rubber siding, which will expand and contract in sunlight leading to cracking and leaking.
Lumber: Kits often use lumber that is mass-produced and not properly treated. When lumber isn't adequately treated, it can cost the integrity of the building.
Flooring: The cheapest of these kits don't include flooring; they require a separate floor to be purchased and installed.
Roofing: 3-tab shingles (also referred to composition or fiberglass shingles) tend to be included in these kits. Compared to the architectural shingles you'll find on a high-quality custom-built shed, 3-tab shingles are more susceptible to leaks and being blown off in heavy wind. This can leave the items in the shed exposed to the elements, which is exactly what the shed is supposed to stop from happening.
2. Shed kits are not customizable.

DIY shed kits are convenient and will save you money in the short term. But besides the lower lifespan and cheaper materials, another issue arises in customization.
Options: If you're looking specifically at recognizable brand name kits, then having more than a couple of choices for the siding, roofing, and floor means you hit the jackpot. Meanwhile, there are dozens of different styles of options when it comes to customizing the look of a custom-built shed.
Add-ons and upgrades: Features like flower boxes, trim packages, and wall insulation are usually not available for kit sheds. And if you want to upgrade the shed via pre-hung steel doors, double-paned insulated windows, or by adding a dormer or second vent, there will likely be zero options to do so.
Color: These shed kits usually don't come painted. This means if you want them painted, you have two options, pay extra by hiring a handyman service or doing it yourself. Which besides taking quite a bit of time and energy out of your day, it also requires research to figure out what type of paint you should even buy.
3. Shed kits are challenging to build

While DIYers and crafts may like the idea and challenge of building their own shed, there is always the change of something not fitting correctly or being damaged in transit. To worsen matters, forcing pieces to go together incorrectly could cause irreversible damage. All of this on top of the time sink to build the shed itself an make it quite a tortuous experience.
4. Custom-built sheds are better quality and tailor-made

Storage buildings, like most expensive purchases, are investments. Thinking about the purchase in the long term will be more beneficial than the short term. Spending less on a kit will save money in the present, but buying a more expensive custom-built shed will save you money over time. Along with the options to have them either delivered to your property or built on site by an experienced construction team.
Quality materials: A shed's purpose is to protect your possessions from the elements. As such, you should want the materials used to construct it to be of high quality and durability. Trusted brands like LP, CertainTeed, and Sherwin-Williams have stood the test of time and have proven themselves.
No shortcuts: Skill craftsmen tackle every part of our sheds, so you can be sure of its quality construction with no shortcuts taken. Reputable custom shed manufacturers take pride in their products and have high standards. You can be sure that the sheds you buy from them have their seal of approval.
Delivery: Most custom shed manufacturers will deliver your new shed and even take older ones saving you time and stress. It's just as simple as pointing the delivery team in the direction of where you want your new shed!
So, should you go with a shed kit or custom-built shed?
While kits can be convenient and cheap, those are because of many sacrifices made in their construction and materials. You will not be investing in a long-term solution.
We recommend buying a high-quality storage building that is proven to stand the tests of time and keep your possessions safe. And we believe a high-quality custom-built shed will only rise above those expectations.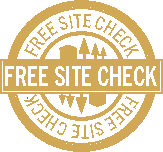 If you don't think a shed will fit in your backyard. We are here to help.