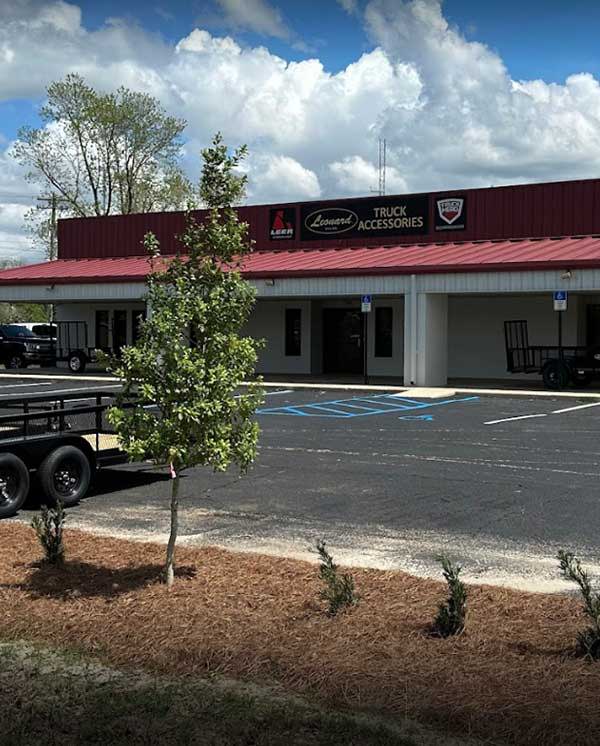 Leonard Buildings & Truck Accessories, Thomasville, GA

100 Commerce Park Dr, Thomasville, GA 31757
For your equipment and storage needs, Leonard Buildings & Truck Accessoy in Kingsland, GA has got you covered. We offer a wide range of truck accessories, trailers, and sheds that cater to your home or business requirements. You can drop by our store any day from Monday to Saturday, or call us for advice before visiting.
Kingsland Truck Parts & Trailers
At Leonard, we understand the importance of customizing your truck for work or play. That's why we have a great selection of truck accessories at our Kingsland location. Choose from our array of truck covers, wheels and rims, lift kits, floor mats, trailer hitches, truck bed caps, and other trusted brand accessories such as B&W Trailer Hitches and LEER. Browse our complete truck accessory catalog or check out our blog for advice on the best parts to order.
When it comes to towing, we have you covered with our general utility trailers and specialty trailers that can haul everything from landscaping equipment to side-by-sides. Plus, we offer rent-to-own or financing options to help you stay within your budget.
At Leonard, we take pride in providing excellent service, and our Kingsland store is no exception. Unlike big-box stores, we offer personalized service to all our customers. We provide trailer service, truck accessory installation, and more six days a week. Visit us today and experience the Leonard difference!