Trailer Service, Parts and Repair

Just like any other vehicle, your Leonard trailer requires routine maintenance to ensure that it is safe, performs properly, and lasts a long time. Leonard manufactures, sells, and services trailers. Each of our 72 trailer locations has a service center and can schedule a service check or perform most repairs. Leonard also offers trailer options and accessories for most standard utility and cargo trailers. Regular service check-ups help avoid voiding component warranties. Call a dealer near you to schedule an appointment or discuss repair costs.
10-Point Services Check
Grease Axles if needed (easy grease axles only)

Check Tire Pressure

Check Tire Tread

Tighten Lug Nuts

Inspect Brake System*

Test Lights: brake lights, rear running, and turn signals

Check Floor Boards

Check Door, Ramp, and Gate Latch Operation**

Check Joints for Weld Stress**

Check Jacks for Proper Operation
*If work is needed, a quote will be provided.
**Overloading can cause stress to weld joints, causing them to crack.
Instructions for greasing the axle:
Remove the rubber plug from the end of the grease cap.
Place a standard grease gun onto the grease fitting located at the end of the spindle. Make sure the grease gun nozzle is fully engaged in the fitting.
Pump grease into the fitting. The old displaced grease will begin to flow back out the cap around the grease gun nozzle.
When the new clean grease is observed, remove the grease gun, wipe off any excess, and replace the rubber plug in the cap.
Rotate hub or drum while adding grease.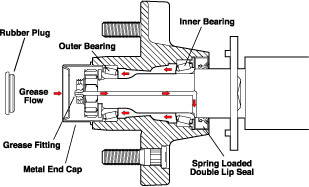 2 & 3. Check TiresUsing a standard tire gauge, check the pressure of each tire.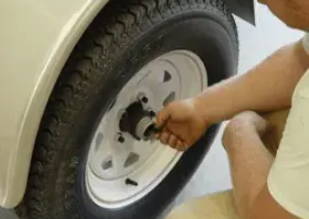 | | |
| --- | --- |
| Tire Size | Max. P.S.I. cold65 |
| | |
| | |
| | |
| | |
| | |
| | |
| | |
UNDERINFLATION: Wear on both edges:
Underinflation of a tire reduces its tread life by increasing the tread wear on its outside edges, or shoulders. It also generates excessive heat, which reduces tire toughness. Finally, it reduces fuel economy through increased rolling resistance because soft tires make your trailer and vehicle work harder. Abnormal tire wear may also be caused by misalignment.
OVERINFLATION: Wear in center:
When a tire is overinflated, the center of the tread bears most of the load and wears out faster than the outside edges. Uneven wear reduces the useful life of a tire.
CUPPING: Cups or dips in the tread:
Cupping (also called dipping) is most common on front tires, although rear tires can cup as well. It may be a sign that wheels are out of balance, bearings are loose, or that suspension parts are worn out.
INSIDE OR OUTSIDE WEAR:
If the edges of your tire tread take on a sawtooth or feathered appearance, it's because of erratic scrubbing against the road. The solution is an alignment correction.If the inside of tire is smooth or shows signs of excessive wearing, it is likely the result of overloading the trailer.
Use the dry wheel lug torque values specified in the vehicle's owner's manual, shop manual, or obtained from the vehicle dealer/service provider. The chart below lists typical torque values that should only be used temporarily until the vehicle's exact torque values can be confirmed.
Since the thickness of an alloy wheel can differ from Original Equipment wheels, also verify that the lug nuts or bolts will engage the threads. Refer to the chart below to determine the number of turns or the depth of engagement typical for your stud or bolt size.
| | | |
| --- | --- | --- |
| Hardware Bolt or Stud Size | Typical Torque Range in Ft/Lbs | Minimum Number of Turns of Hardware Engagement |
| | | |
| | | |
| | | |
| | | |
| | | |
| | | |
| | | |
| | | |
| --- | --- | --- |
| 1st Stage | 2nd Stage | 3rd Stage |
| | | |
When installing new wheels, you should re-torque the wheel lugs after driving the first 50 to 100 miles in case the clamping loads have changed following the initial installation. This is necessary due to the possibility of metal compression/elongation or thermal stresses affecting the wheels as they are breaking in, as well as to verify the accuracy of the original installation. When rechecking torque value, wait for the wheels to cool to ambient temperature (never torque a hot wheel). Loosen and retighten to value, in sequence. Simply repeat the same torque procedure listed above.
Brakes are required on some trailers (all tandem axles and some single axle based mainly on weight class).
Brakes do fail and underperform from time-to-time and must be checked and maintained.
The most common reason for poor brake performance is improper brake adjustment. Adjusting the breaks is a procedure that you can do yourself, although most people leave it to service centers.
The second most common problem is faulty, improperly installed or improperly used wiring or electrical components.
The first step in isolating brake problems is to identify the amount of power going to the brakes. We have troubleshooting procedures based on the nature of the issue:
No Brakes
Ineffective or Weak
Intermittent Surging
Noisy
Dragging
Locking or Grabbing
Example of "No Brakes" cause/procedure
diagram is to the right.