Tonneau Covers, Truck Bed Coves and Truck Caps

Leonard Building and Truck Accessories is a top resource for tonneau covers by all the best brands. These versatile covers transform any truck bed into a secure, covered space for your cargo, whether you need to protect tools, equipment, golf gear, luggage, personal items or anything else that needs to be shielded from weather and safeguarded from the rigors of the road. Leonard tonneau covers come in a huge array of configurations to suit your specific needs, whether you want an easy-open style or something made of heavy-duty materials.

For the best in versatility, choose a folding, roll-up or retractable tonneau cover for your truck. These Leonard truck bed covers allow you to open only a portion of the cover to access exactly what you need when you need it without fully removing the unit. If protection against the elements is your main priority, select a heavy-duty or fiberglass hard tonneau cover that gives your truck bed that sleek, finished look. All Leonard truck bed covers are designed to help enhance functionality of your truck while also improving gas mileage and adding style.
SHOP TRUCK BED COVERS BY BRAND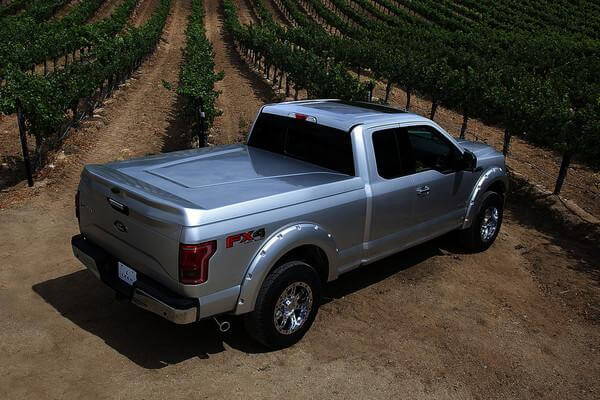 Introducing the LEER 750 Sport, a stylish tonneau cover designed exclusively for 2015 (and newer) Ford F-150 trucks. Ford-inspired, with dimensional aerodynamic styling, and automotive paint, the 750 Sport is the most striking tonneau on the road today.
Keyless remote

LEER twist handle

Limited Lifetime Warranty

20 inch 12-volt adjustable LED tube light with gas prop switch

Leer FlexSeal front rail bed protection

Leer Superlift system
Interior headliner

Automotive-style rotary latches

Inside release

Trimless, finished edges

LEER articulating 4-bar hinge

Custom fit design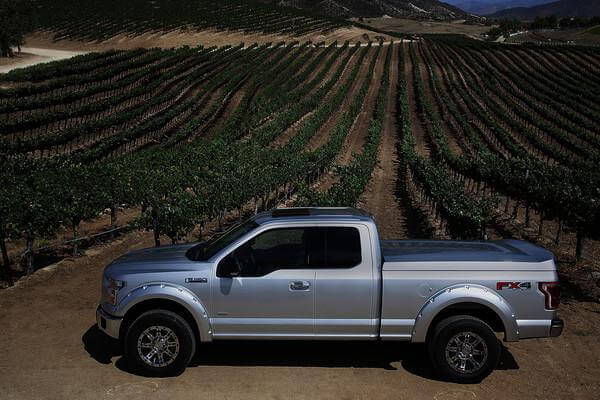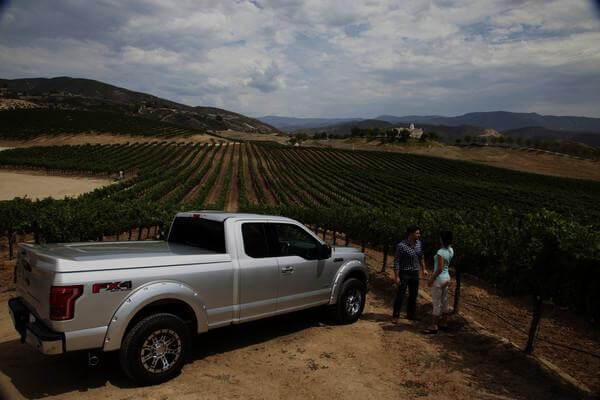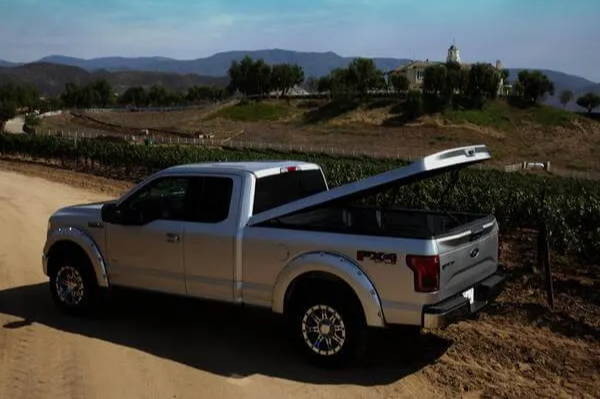 The LEER 700 showed truck lovers that tonneaus don't have to be boring - they can be beautiful! The style lines and high-dimension details capture the essence of each truck model they fit. Get the best, the original high-dimension tonneau, the famous LEER 700.

The new 550 is a dramatic low-profile expanse of gleaming fiberglass with the custom fit and reliable performance that made LEER famous, now including a convenient rear-mounted Flip-Lock Handle with Rotary Latches, Gas Props with Adjustable SuperLift Assist, LEER 4-Bar Hinges, and a front-mounted FlexSeal. Headliner, Interior Lighting ,and Keyless Remote Unlock are available as factory-installed options.

RUGGED LINER - PREMIUM VINYL FOLDING

This tonneau cover is easy to put on or take off in just minutes with no tools or assembly needed thanks to a patented quick clamp system. Safety strap and night time cargo light included.

RUGGED LINER HARD FOLDING TONNEAU COVER

This tonneau cover is easy to put on or take off in just minutes with no tools or assembly needed. Ask about adding a tailgate lock for additional security.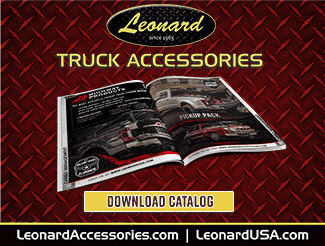 DOWNLOAD OUR NEW TRUCK ACCESSORY CATALOG

The latest Leonard truck accessories catalog is here and it is absolutely free. Whether you're a Ford, Chevrolet, Dodge, GMC, Toyota, Nissan, or Jeep owner, you will find the catalog contains a massive selection of parts. What we don't stock in our plus 70 stores, we will order for you promptly, and you can be sure that you will find what you are looking for in our Free Truck Catalog.