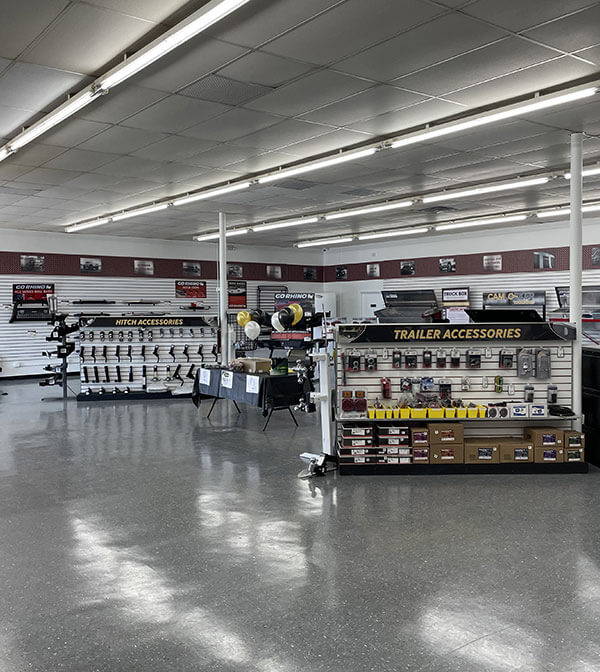 Leonard Buildings & Truck Accessories, Sumter, SC

2841 Broad St, Sumter, SC 29150
Truck Accessories & Trailers in Sumter, SC
Visit Leonard Buildings and Truck Accessories in Sumter, SC for all your building, trailer, and truck accessory needs in the greater Sumter County. We're located at 2841 Broad St. and are open six days a week to serve you. Whether you're looking for Leonard bed covers, trailers, or sheds, our knowledgeable store staff will be able to answer all your questions and can match you with the right solutions.
Leonard is #1 in the Southeast for personal and commercial trailers. Come and try out Leonard dump trailers, utility trailers, and flatbed trailers to find a solution that meets your personal or business needs. Our Sumter, SC trailers for sale are made in the U.S., and with rent-to-own and financing options, there's a way to fit your budget. While you're in the area, stop by to explore Leonard accessories for your truck or SUV, including running boards, hitches, wheels, bed covers, and more. We do on-site installation of your custom truck parts and also offer trailer service and repair.
Sumter, SC Storage Sheds & Playhouses
Of course, we're also your go-to resource for storage buildings and sheds in Central South Carolina. Be sure to stop by and see what we have in store for storage sheds and utility buildings. They come in many sizes and materials, so if you're eyeing a metal lean-to, a large backyard barn, a gable with vinyl siding, or some other structure, Leonard can build it. We also make chicken coops and kids' playhouses.
Trailers by Leonard, truck accessories, and storage sheds are designed for the best quality and performance, so you only have to buy it once. We're centrally located near Lakewood, Camden, Summerton, and Eastover with store hours Monday-Saturday.
Leonard Buildings & Truck Accessories, Florence, SC

1714 S Irby St, Florence, SC 29505
Leonard Buildings & Truck Accessories, Columbia, SC

1919 Augusta Road, West Columbia, SC 29169
Leonard Buildings & Truck Accessories, Summerville, SC

2423 N Main St, Summerville, SC 29486