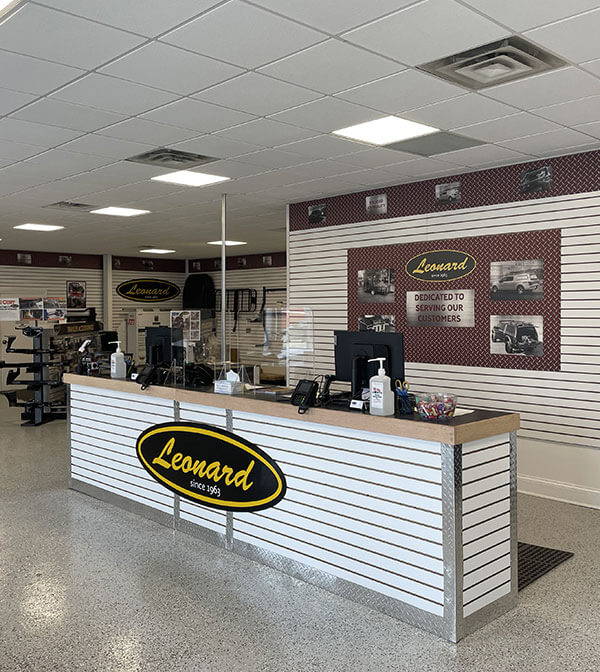 Leonard Buildings & Truck Accessories, Parkersburg, WV

4302 Emerson Ave., Parkersburg, WV 26104
Parkersburg, WV Storage Buildings
Visit Leonard Buildings & Truck Accessories in Parkersburg, WV for all your building, trailer, and truck accessory needs in the greater Wood County, West Virginia area. Whether you need a new trailer or want to explore storage sheds and utility building options, we're open six days a week to serve you,. Our knowledgeable store staff will be able to answer all your questions and can match you with the right solutions.
Leonard is your go-to resource for storage buildings and sheds in Northern West Virginia, so be sure to stop by and see what we have in store. Choose from dozens of building styles and sizes that have a five-year warranty. Our metal sheds, vinyl-sided barns, lean-tos, carports, and other structures are made in the U.S. — as are trailers and haulers by Leonard. Come and try out Leonard dump trailers, utility trailers, and flatbed trailers to find a solution that meets your personal or business needs. We offer a variety of rent-to-own Parkersburg trailers that tow everything from lawnmowers to classic cars.
Truck Accessories in Northern West Virginia
Need to give a vehicle a little extra function or flash? Leonard is the name the Southeast trusts for custom truck parts. Stop in to explore Leonard accessories for your truck or SUV, including running boards, hitches, wheels, bed covers, and more. We'll even install them onsite!
Trailers by Leonard, truck accessories, and storage sheds are designed for the best quality and performance, so you only have to buy it once. If you're looking for Leonard bed covers, trailers, or sheds, visit or call Monday-Saturday. Our Parkersburg store is located at 4302 Emerson Avenue just a few miles from the Ohio river, letting us serve the Valley from Lubeck to Durham.
Leonard Buildings & Truck Accessories, Ripley, WV

243 South Church Street, Ripley, WV 25271
Leonard Buildings & Truck Accessories, Clarksburg, WV

1318 Buckhannon Pike, Clarksburg, WV 26301
Leonard Buildings & Truck Accessories, Charleston, WV

5408 MacCorkle Ave SW, South Charleston, WV 25309