Northern Virginia Storage Buildings
Visit Leonard Buildings and Truck Accessories in Manassas, VA for all your building, trailer, and truck accessory needs in the greater Washington, D.C. area. Our Manassas store is located at 8135 Sudley Road and is open six days a week to serve you. Whether you need a new trailer or want to explore storage sheds and utility building options, the Leonard experts can help find a solution at a great price.
We're the go-to resource for storage buildings and sheds in Northern Virginia. If you need a permanent storage structure, be sure to stop by and see what we have in store. Leonard has pre-built lean-tos, barns, carports, salt boxes, and other buildings that are made in the U.S. Delivery is free within 30 miles of our store. We also build doghouses, chicken coops, and kids' playhouses — and we do custom storage buildings, too.
Manassas Trailers & Truck Accessories
Leonard does more than just storage. We're also #1 in the Southeast for custom truck parts and trailers. Our knowledgeable store staff will be able to answer all your questions and can match you with the right solutions, whether you're looking for Leonard bed covers or a motorcycle hauler. Stop in to explore Leonard accessories for your truck or SUV, including running boards, hitches, wheels, bed covers and more. While you're here, try out Leonard dump trailers, utility trailers, and flatbed trailers to find a solution that meets your personal or business needs.
Trailers by Leonard, truck accessories, and storage sheds are designed for the best quality and performance, so you only have to buy it once. From Arlington to Waterloo, we're a one-stop shop for Northern Virginia buildings and more.
Leonard Buildings & Truck Accessories, Fredericksburg, VA

1401 Emancipation Proclamation Hwy, Fredericksburg, VA 22401
Leonard Buildings & Truck Accessories, Staunton, VA

354 Greenville Ave, Staunton, VA 24401
Leonard Buildings & Truck Accessories, Ruckersville, VA

8467 Seminole Trail, Ruckersville, VA 22968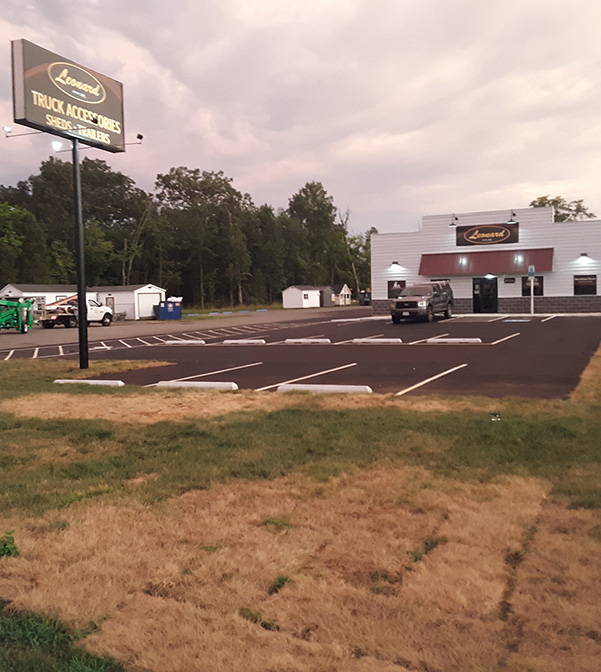 Leonard Buildings & Truck Accessories, Manassas, VA

8136 Sudley Rd, Manassas, VA 20109