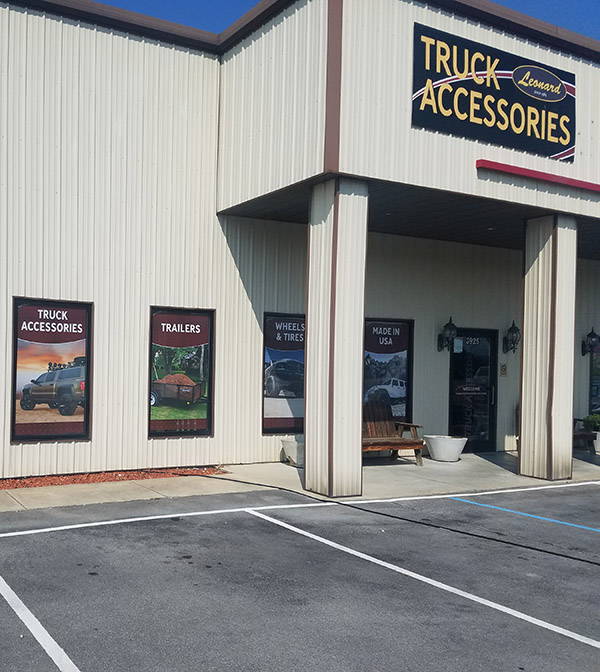 Leonard Buildings & Truck Accessories, Johnson City, TN

3925 Bristol Hwy, Johnson City, TN 37601
Leonard Building & Trailer Products in Johnson City, TN
Visit Leonard whenever you have a storage or trucking project that needs a helping hand. Our Johnson City, TN building and supply store has the solutions you need at great prices. Since 1963, we have designed and manufactured an assortment of building solutions such as storage sheds, backyard barns, lean-tos, playhouses, garages, and dog houses. These structures come in many shapes, sizes, and materials — all of which have a five-year warranty, longer than anyone else in the industry. Storage buildings are delivered free within 30 miles of Johnson City and also have rent-to-own options for reducing upfront costs. The Leonard Shed Buying Guide will help you find the perfect Johnson City storage building, and if you still have questions, our team is ready to help.
We are also #1 in the Southeast for trailers and custom truck parts. All trailers, from our well-known V-nose cargo trailers to construction and dump trailers, are made in the U.S. Buy a trailer to tow cars, motorcycles, landscaping equipment, and anything else you can think of. Leonard truck accessories in Johnson City include tonneau covers, lift kits, custom wheels, bedliners, and toolboxes from name brands. Our team can service your current trailers and install most truck upgrades onsite. If you're looking for a trailer or truck accessory that we don't have in stock, we'll either find it or get it built for you.
Leonard of Johnson City serves Northeast Tennessee and also is an easy drive from Western North Carolina, Southwest Virginia, and Eastern Kentucky. Stop by Monday-Saturday or call us to speak with an in-house expert. We also have the Leonard Blog that's filled with resources to help you before and after the sale.
Leonard Buildings & Truck Accessories, Kingsport, TN

3378 E Stone Dr, Kingsport, TN 37660
Leonard Buildings & Truck Accessories, Bristol, VA

14260 Lee Hwy, Bristol, VA 24202
Leonard Buildings & Truck Accessories, Morristown, TN

120 S Haun Dr, Morristown, TN 37813