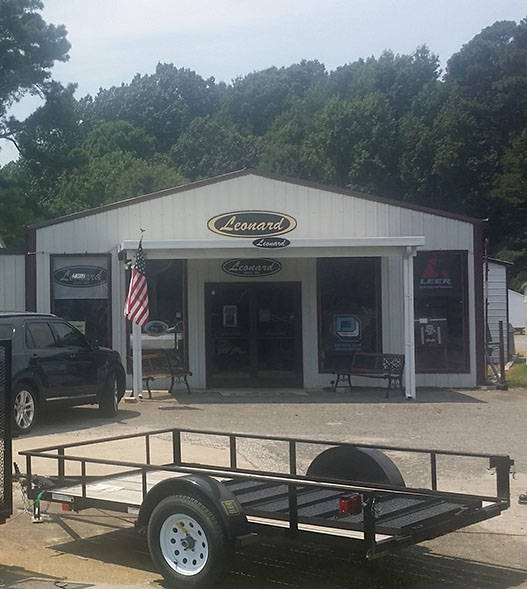 Leonard Buildings & Truck Accessories, Yorktown, VA

2307 George Washington Memorial Highway, Yorktown, VA 23693
Leonard Sheds in Yorktown, VA
Since 1963, Leonard Buildings & Truck Accessories has been #1 in the Southeast for selection, sales, and service. Stop at our Yorktown, VA store Monday-Saturday for all your home and business needs. We serve the entire Virginia Peninsula and surrounding communities, sitting within a 45-minute drive of Newport News, Hampton, Williamsburg, Norfolk, and Chesapeake.
A Leonard shed is made of durable materials such as metal and vinyl to resist the elements while storing your valuables. We also offer backyard barns, garages, gables, and other designs. Choose from many shapes and sizes to fit your yard space and hold all your valuables. Or design a custom Yorktown storage shed and we'll build it for you! Leonard storage buildings have a five-year warranty on materials and craftsmanship. Our experts can install these buildings, and we'll deliver them for free within 30 miles of the store.
Yorktown Trailers & Truck Accessories
Need to haul equipment or toys? Shop for a Yorktown utility trailer at an everyday low price. We sell everything from motorcycle trailers to flatbeds and service your current hauler. These trailers are made in the U.S. just like our buildings. No matter what your cargo is and where you're taking it, Leonard has the right trailer for the jobs.
If your vehicle could use a makeover, we'll help with that, too. Leonard truck accessories are the best way to customize your truck using brands you know and trust. We carry tonneau covers, floor mats, running boards, trailer hitches, work van shelving, and many other "stylishly functional" parts. If you can dream it, Leonard can build it. Our skilled team knows the products we sell, and with free resources such as our Truck Accessories blog, you can research from the comfort of home.
Leonard Buildings & Truck Accessories, Portsmouth, VA

2525 Airline Blvd, Portsmouth, VA 23701
Leonard Buildings & Truck Accessories, Virginia Beach, VA

980 S Military Hwy, Virginia Beach, VA 23464
Leonard Buildings & Truck Accessories, Richmond, VA

9600 Jefferson Davis Hwy, Richmond, VA 23237