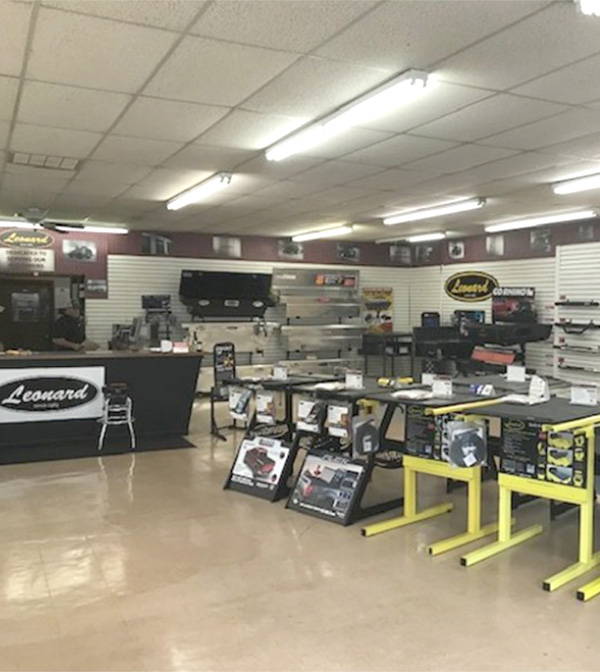 Leonard Buildings & Truck Accessories, Mechanicsville, VA

6029 Mechanicsville Turnpike, Mechanicsville, VA 23111
Leonard Buildings in Mechanicsville, VA
Whenever you need equipment and storage for your home or business, Leonard can make it happen. We have the best selection of truck accessories, trailers, and sheds for sale in Mechanicsville, VA. Visit us Monday-Saturday or call us for advice before stopping in. We're on Route 360 not far from downtown Richmond, Atlee Station, Highland Springs, and Ashland.
Our Mechanicsville storage buildings are made in North Carolina and have an industry-leading five-year warranty. In addition to storage sheds, Leonard also sells gables, backyard barns, lean-tos, and garages. Choose from Leonard aluminum utility buildings, sheds with vinyl siding, and traditional wood structures. You'll even find animal structures such as dog houses and chicken coops. Installation and delivery from our knowledgeable team members are available on most items within 30 miles of the store.
Mechanicsville Truck Parts & Trailers
Leonard also helps truck owners customize their vehicles whether it's for work or play. Shop at our Mechanicsville location for truck covers, wheels and rims, lift kits, floor mats, trailer hitches, truck bed caps, and other truck accessories. They're made by names you trust such as B&W Trailer Hitches and LEER. Browse our full truck accessory catalog or visit the Leonard blog for advice on which parts to order.
Last but certainly not least, we are the place to shop in the Southeast for an enclosed trailer or open trailer. Tow everything from landscaping equipment to side-by-sides using the correct hauler. We have general utility trailers and specialty trailers with rent-to-own or financing to stay within your budget.
Leonard is known as much for our service as we are for great selection and prices. By visiting the Mechanicsville store, you'll receive the personalized service you just don't get from a faceless big box store. We offer trailer service, truck accessory installation, and more six days a week."
Leonard Buildings & Truck Accessories, Richmond, VA

9600 Jefferson Davis Hwy, Richmond, VA 23237
Leonard Buildings & Truck Accessories, Fredericksburg, VA

1401 Emancipation Proclamation Hwy, Fredericksburg, VA 22401
Leonard Buildings & Truck Accessories, Yorktown, VA

2307 George Washington Memorial Highway, Yorktown, VA 23693