Metal outdoor storage sheds here means affordable metal shed solutions. While these are entry-level sheds, Leonard tends to use more and better raw material in its construction than most in the industry. This style was designed for consumer projects which don't require as robust of a solution. We have two types of simple storage sheds. The Pilot and the Basic are both described below. The units are not designed to customize and are usually stocked at one of our factory owned outlets. As these are rarely special order, it is best to drop by one of our factory owned stores to take a look around. The sizes listed below are based on nominal measurements.
Available in sizes : 6' x 8', 8' x 8', 8' x 12', 12' x 12'
---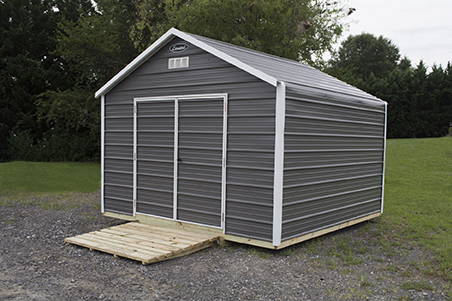 This is the entry-level model for customers who need something quick and inexpensive. It has a wood frame and is covered with 29 gauge metal panel siding which is very durable. The frame is built using 2x3 with a smaller header/footer plates for the walls. The spacing and stud configuration is a little different than in our normal Gable Cottage and Ranch series and totally different than our steel frame series. We have priced these to be purchased as-is and offer very little in the way of optional upgrades. The floor is a little different as well. We use 5/8" plywood and the skid system is not robust. For many applications, it works just fine. The good news is that we usually have a few at every one of Retail Locations so you should be able to purchase and have it delivered quickly. There are some color options.
MORE THAN A DOZEN COLORS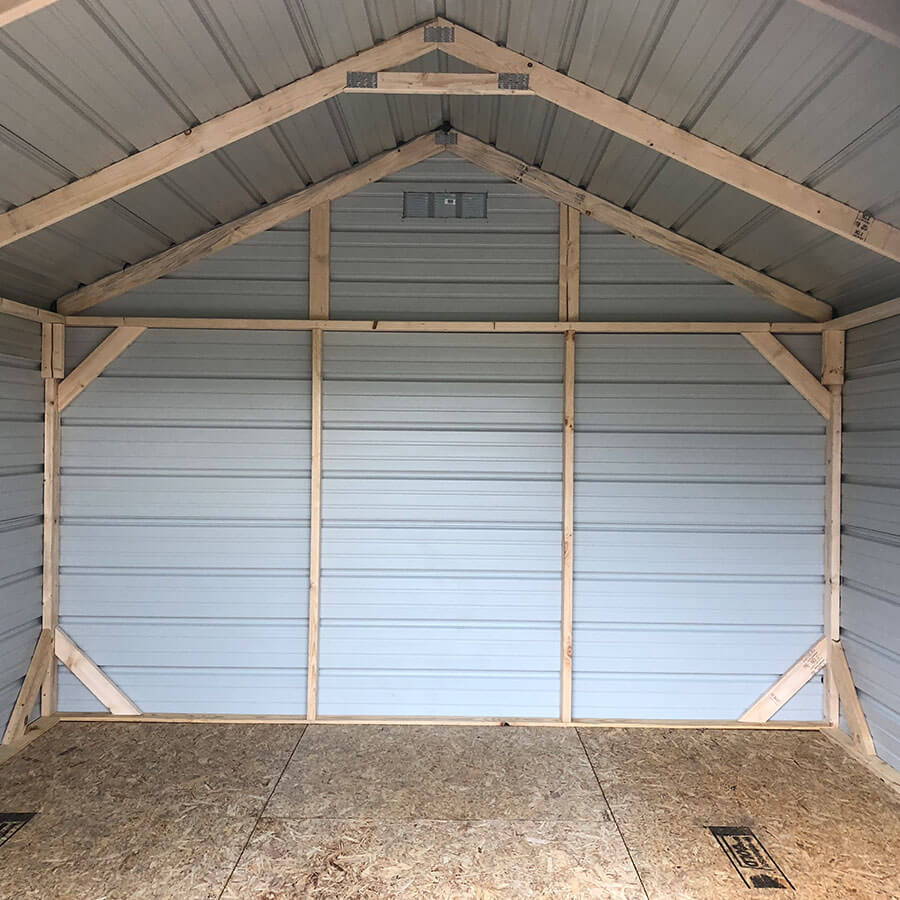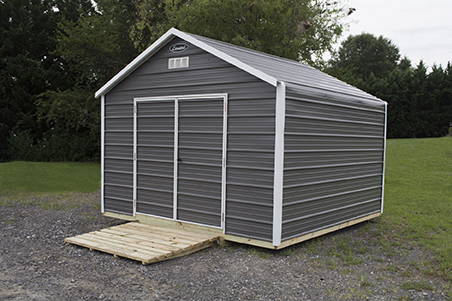 Leonard's Famous Notch Skid Floor System

The world of pre-assembled and portable storage sheds, the foundation is paramount. Leonard's famous notched skid flooring system has been refined over the years to provide the most rugged and durable floor in the business. 4'x6' pressure treated skids are notched so that the pressure-treated 2'x6' floor joists are squeezed in and cross fastened to avoid twisting or warping. This added step all allows the necessary strength to move the building over its life without doing damage to the structure. The floor is covered with 5/8" engineered flooring that is designed to last longer and not warp. Note: all other series come standard with 3/4" engineered flooring.
Construction for the Pilot Basic - Entry Level

It starts with Leonard's famous notched skid floor system (see above). The 2"x4" wall frame cage is designed efficiently yet works with the 29 gauge steel panel to form a solid structure which is low maintenance. The metal siding rolls over the roof allowing few seams and no eaves to attract insects. The horizontal siding gives a lap sided look from a distance. Some customers prefer the wood frame metal sided buildings while they do require little to maintain, the wood frame provides them some flexibility to add shelves, workbenches, pegboard or other interior options on their own.