Leonard Buildings and Storage Warranty

Here at Leonard, we believe that a warranty is only as good as the folks backing it. Simply put, for over 50 years, we have been proud to offer the strongest 5-year warranty in the industry. Thanks to thoughtful design, the use of quality materials, and highly skilled workmanship, our structures are built to last.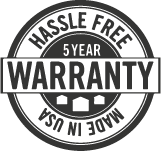 At the discretion of Leonard Buildings, any flaw or defect that occurs during the first five years of building ownership and is the result of materials or workmanship will be repaired or replaced - free of charge. In addition, certain building components, like shingles and windows, have their own manufacturer's warranties, and we support these as well. If Leonard moves your building to a new location, the warranty will stay in effect for the 5-year duration. We stand behind our product 100% and want you to get maximum use out of your structure. Once you complete the simple warranty registration process, our complete warranty, which outlines the few limitations and provides maintenance tips, will be emailed to you. Note: Pet and Animal structures are not covered under our 5-year warranty.
Before a building ever leaves our plant, we carefully inspect it to make sure it meets our manufacturing standards. We take great care during both the loading and unloading processes, and once your building has been delivered, blocked and leveled, we will perform a "walk-through" with you to ensure that you are satisfied with the product and its placement. Once you complete our online registration form, your building becomes linked to its 5-year warranty.
What if I have questions?

If you have any questions or feel that you may need to report a claim, please call your local store manager. They can visit your property to inspect your structure to gain a good understanding of your concerns. If a repair is needed, we will address it in a timely manner. If you have any additional questions, call (336) 789-5018.