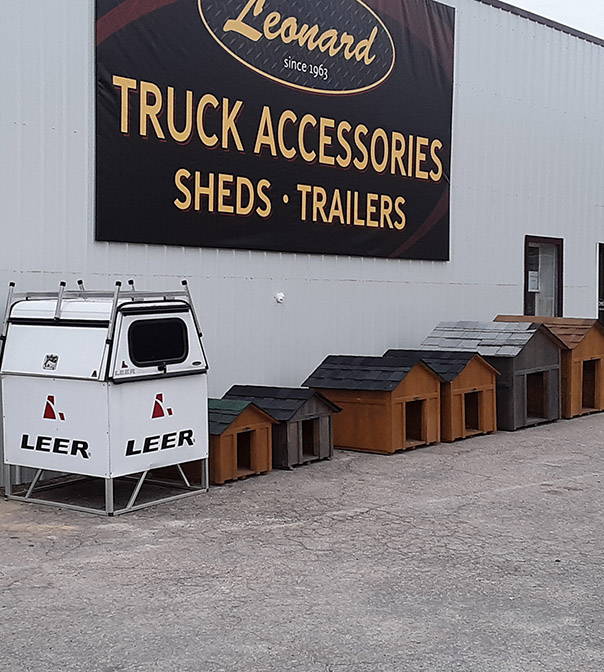 Leonard Buildings & Truck Accessories, Raleigh, NC

4239 Capital Boulevard, Raleigh, NC 27604
---
Raleigh Storage Buildings & Trailers
As your go-to resource for storage buildings, sheds, trailers, and truck accessories in Raleigh, NC, Leonard is here to help you with a wide range of needs. Our store is located at 4239 Capital Boulevard to serve the Raleigh community six days a week at convenient hours. From heavy-duty trailers to American-made storage sheds, the Raleigh, NC Leonard store offers a long-lasting, budget-conscious solution.
Since 1963, we have been #1 in the Southeast for home and business storage. Shop Raleigh storage sheds, barns, carports, and many other types of structures. You can learn all about the options in our shed buying guide. We deliver sheds for free within 30 miles, which includes the towns of Wake Forest and Clayton. Leonard also carries doghouses, chicken coops, and kids' playhouses.
We're pleased to offer top-notch pricing, hassle-free financing and even rent-to-own options on our sheds and trailers. Raleigh residents can stop by our Capital Boulevard store to see our trailers and storage buildings in person. Whether you need a utility trailer, a cargo trailer, a flatbed trailer, or a specialty option, Leonard's trailers will help you safely transport your cargo to wherever it needs to go.
Transportation will be smoother and more fun with Leonard truck accessories. Our selection of Raleigh truck parts includes wheels, tonneau covers, bedliners, and bed racks for going on or off the road. We can install many of these accessories before you leave. Stop by and chat with our location manager and friendly staff for one-on-one service!
Leonard Buildings & Truck Accessories, Garner, NC

5226 Fayetteville Rd, Raleigh, NC 27603
Leonard Buildings & Truck Accessories, Youngsville, NC

472 US 1 Highway, Youngsville, NC 27596
Leonard Buildings & Truck Accessories, Durham, NC

2112 E US 70 HWY, Durham, NC 27703