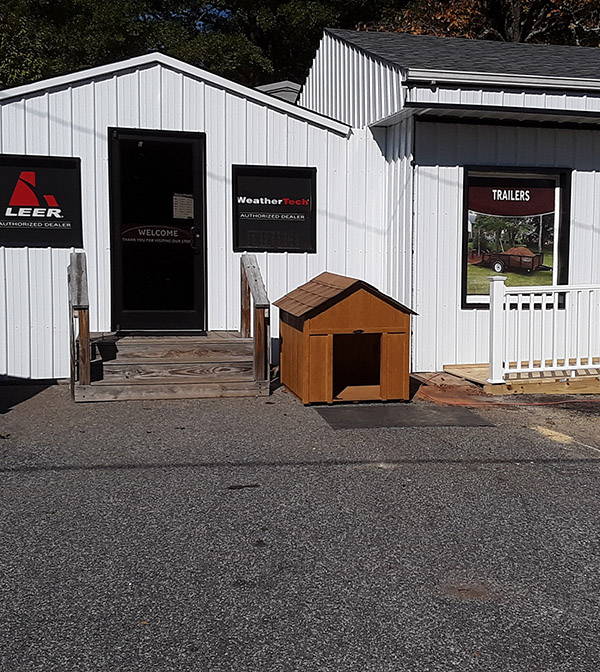 Leonard Buildings & Truck Accessories, Hickory, NC

2955 HWY 70 SE, Newton, NC 28658
---
Hickory Storage Buildings & Vehicle Accessories
Make the trip to Leonard of Hickory and Newton whenever you need home or business storage and a lot more. Whatever your vision, Leonard can build it. We are the leader in Hickory, NC sheds that add protection and beauty to any property. Shop for these and many other buildings: backyard barns, aluminum-sided gables, vinyl lean-tos, carports, playhouses, and even dog houses. You can even design your own shed using our online tool.
We offer free delivery on all storage sheds within 30 miles of our location on U.S. Highway 70. If you don't have the budget to buy one upfront, ask us about rent-to-own sheds. Financing is also available, so no matter what your storage needs, there's a way you can afford it.
Towing & Truck Parts in Hickory, NC
Customers also come to us for hauling and trucking supplies. Leonard has the largest assortment of trailers in Hickory — and in the Southeast, for that matter. Shop Monday-Saturday for general utility trailers, flatbeds, dump trailers, powersports trailers, and other styles that are made in the U.S. You can even find a race car hauler for getting to the speedway — we're less than half a mile away! Pull them behind a truck outfitted with our accessories that include tonneau covers, spray-on bedliner, custom wheels, and cargo racks. Thousands of products are available; if they aren't currently in stock, we'll order them for you.
Stop by Leonard six days a week or arrange for pick-up after browsing products online. Our Hickory towing and building store is a stone's throw from Brookford, Claremont, Mountain View, and Blackburn. Leonard has been #1 in the Southeast since because we offer personalized Hickory storage and trailer service to go with our selection. Our team can help you select the right shed, do standard trailer maintenance, and anything else that might improve your shopping experience."
Leonard Buildings & Truck Accessories, Gastonia, NC

517 Tulip Drive, Gastonia, NC 28052
Gaston Glass – Leonard Buildings & Truck Accessories , Gastonia, NC

4909 Wilkinson Blvd, Gastonia, NC 28056
Leonard Buildings & Truck Accessories, Shelby, NC

1884 E Dixon Blvd, Shelby, NC 28152