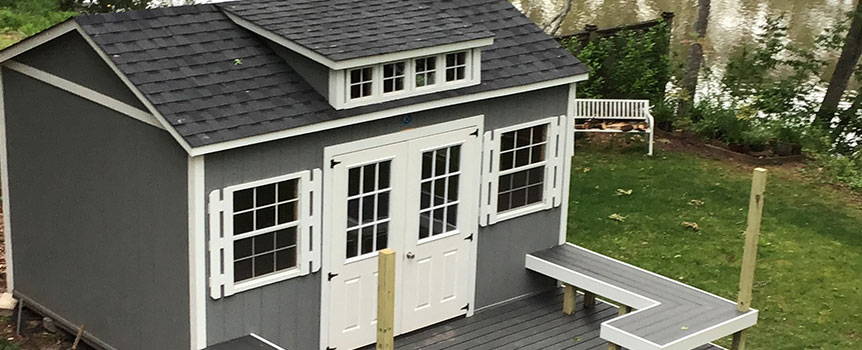 3 Ways A Backyard Shed Increases Your Homes Value

Homeowners have a massive selection of renovation options available to increase their home's value. In our opinion, however, the best and most cost-effective manner to do this, is also an option that will draw immediate attention to itself, the moment anyone steps into the backyard. Backyard projects tend to have a higher return on investment than interior ones, due to the "curb appeal". Specifically, a shed building can bring a return investment of 50% to 80% of initial costs. If one selects a more elaborate building such as a man-cave or she-shed, that percentage can skyrocket!
Here are a few reasons why a shed is the right choice for increasing your home's value.
Exterior Aesthetic Appeal
Whether you're in the business of selling your home or are just aiming to keep its value competitive, the aesthetic appeal is one of the most important aspects to think about. Making your home stand out is vital, and there's only so far things like attractive siding and manicured landscaping can go. In 2018, many homeowners were integrating outdoor features such as sheds into their existing exterior aesthetic rather than them being an afterthought. This year it is only expected to kick up a notch taking functional pieces like sheds and making them exterior focal points of their property. It is a trend you're going to want to stay ahead of in the backyard landscaping community.
One in every eleven Americans pays an average of $94 a month in rent for off-site storage. On-site storage like a shed, offers a more long-term solution when it comes to storage needs. A shed building will also save money long term, and add appeal for buyers in the future. If you build a storage shed outdoors, make sure you plan ahead. First, choose which items you'll be transitioning outdoors and make sure they won't be affected by fluctuating temperatures or humidity. Second, make sure you choose products with materials that will keep those items safe. LP SmartSide® Shed products include features like SilverTech radiant barrier products that will help keep your shed cool, even in those hot summer months.
You might not always be able to physically leave your house to have a getaway, and you don't need to. If you build your shed accordingly, all you'll need to do is go outside. Many homeowners have been increasingly using sheds as an escape rather than a single storage space. There are man caves, she sheds, outdoor offices, game rooms, personal gyms, and playrooms. The options on what to use your shed for are near endless.
Drive Value to your Home with a Leonard Shed
Has this article inspired you to increase your home's value with a shed? Learn how we can help you get there.