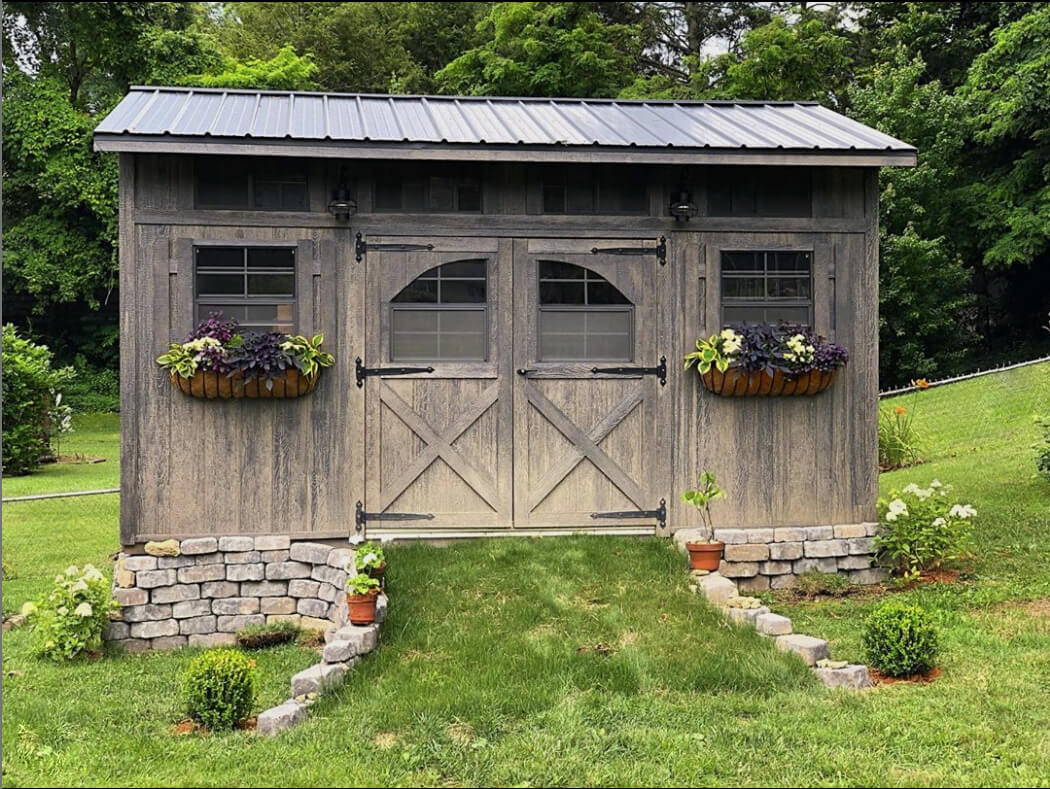 Leonard Highrock Storage Shed With Beautiful Landscaping

Take A Look at Highrock Storage Shed With Beautiful Landscaping
Hi, my name is Brandon Roberts, and I'm going to be giving you a tour of my building from Leonard. This is the High Rock model, I purchased this building back in September roughly, and I had looked for some time trying to find a potting shed that didn't just look like just a typical barn. I wanted something that had the look of a rustic shed. And I was thrilled when I found this one at our local Leonard dealer. As I said, I got it last fall and this spring, I've been working on the stonework, the grass ramp, planter boxes, and the landscaping that is here with it.
With what I've done here with the stone block, all of it is from Lowes. It's about a pallet's worth of stone. The color is Allegheny. I just wanted some plants around it, so it's a little dark right now, but it's a light-colored stone. You can kind of see in the background it's just a natural look around that tree.
When I had them deliver this, there was such a slope here where I wanted it to be placed. It really elevated the building up a great deal. I knew that I did not want to do a wooden ramp. And this model did come with a wooden ramp that hooks under the doors, which was great. But for what I was using it for the ramps were not ideal. I really wanted this grass ramp instead. I thought it had a nice kind of old-world charm to it so that's when I came up with the idea with doing the stacked block and had a load of topsoil brought in and dumped in front of it. Then it was just a matter of stacking it and getting the grass seed to come up.
All of this was done this spring, and as far as the landscaping goes. I think the planter boxes did wonders for the look. I picked these up at a garage sale for five bucks and then filled it with not five bucks worth of plants, but I'm really looking forward to seeing how this takes off once the plants mature. Off to the right-hand side is a snowball bush, so that will get quite large in the coming years. The corners have a little limelight hydrangea, so those will stay manageable and fill in the corners of that. In the front, I have baby Jim boxwoods, and those do really well in keeping their spherical shape naturally, so they don't need a lot of trimming. I'm really looking forward to seeing how that's going to turn out. I still have some work I want to do around it. I still need to do a little bit of landscaping along this left-hand side of the building. I do have a little starting for the tree there, so give it some time, and it'll be trimmed into more of a topiary shape. That's all that I have on the outside so far.
Browse Leonard Highrock Sheds
I do have some plans for the interior that I haven't had the opportunity to start on yet. And that is what the next project is going to be, pegboard painting the whole nine yards on that.
So, this is Match Alert. If you'd like, you are more than welcome to follow me on Instagram. My Instagram handle is: "Brandon Lark Roberts" all one word. Middle word is L-A-R-K.