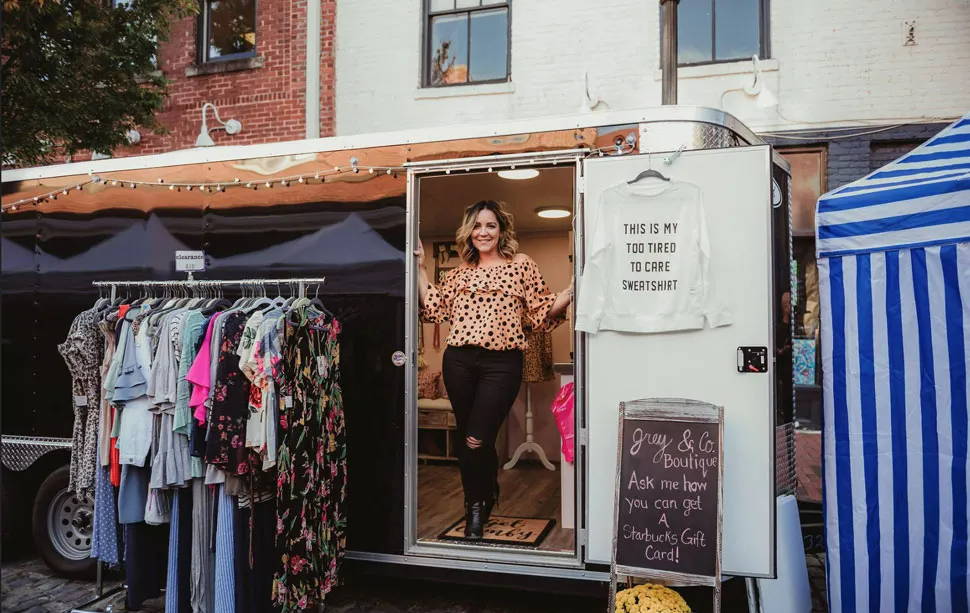 Leonard Cargo Trailers Can Make Your Small Business Dreams Come True!

Leonard cargo trailers can make your small business dreams come true!
When Margie Caban had a lifelong dream to be a boutique owner and help individuals look and feel their best, she turned to Leonard to help her get started with a mobile fashion trailer. As a proud mother of three girls, she has always enjoyed helping them look and feel pretty, not only through fashion but through kindness and respect.
Margie bought her trailer in our Raleigh, NC location, the city where her business is also located. She needed a reliable, durable trailer to help fulfill her dreams. Margie also liked the sleek look of the Leonard cargo trailers and knew it would be a good fit for her business, Grey & CO Boutique. She needed something capable of traveling while also serving her clients. After Margie purchased the trailer, she was ready to outfit it to meet her needs. She added beautiful special touches to the trailer, including a floating wood floor, dressing room, and clothing racks. Margie worked with Jack of All Trades by George, to help out, too. She also added an air conditioner and elegant lighting to the fashion trailer. Since her opening, Margie has served a multitude of customers, eager to see her unique business model and great clothing choices.
You can see the Grey & CO boutique around the Raleigh area, and you can even make an appointment to have the trailer at your next event or home party. Don't live near the Raleigh area? No worries you can find all her great clothing styles online at https://shopgreyco.com/
Leonard's enclosed trailers are built with exceptional quality and craftsmanship. We offer an extensive section of quality trailer accessories designed with the small business owner in mind. Leonard has been seeing dreams turn into realities over the last several decades using our trailers. We stock utility, cargo, and dump trailers at our 58 retail locations. To find a location near you, visit https://www.leonardusa.com/locations today.
Learn more about our trailers here: