BAK Industries Comparison Guide
G2
MX4
FiberMax
F1
Revolver X2
Revolver X4
Vortrak

300 lbs

Evenly Distributed

400 lbs

Evenly Distributed

300 lbs

Evenly Distributed

400 lbs

Evenly Distributed

400 lbs

Evenly Distributed

400 lbs

Evenly Distributed

400 lbs

Evenly Distributed

Call for Today's Specials
BAK Industries


Comparison
Guide
G2
MX4
FiberMax
F1
Revolver X2
Revolver X4
Vortrak

Hard Folding

Hard Rolling

Retractable
Material
Standard

Aluminum

Premium

Aluminum

Standard

FRP

Premium

FRP

Standard

Aluminum

Premium

Aluminum

Standard

Aluminum

Weight Rating

300 lbs

Evenly Distributed

400 lbs

Evenly Distributed

300 lbs

Evenly Distributed

400 lbs

Evenly Distributed

400 lbs

Evenly Distributed

400 lbs

Evenly Distributed

400 lbs

Evenly Distributed
Warranty

Two (2)

Years

Five (5)

Years

Two (2)

Years

Three (3)

Years

Three (3)

Years

Three (3)

Years

Two (2)

Years
Panel Core

Standard

Density

Premium

Density

Standard

Density

Premium

Density

Premium

Density

Premium

Density

Premium

Density
Panel Finish
High Gloss

Aluminum

Durable Matte

Aluminum

High Gloss

Fiberglass

High Gloss

Fiberglass

Standard Grade

Vinyl

Durable Matte

Vinyl

Standard Grade

Aluminum

Dent/Ding Resistant

Standard

Standard

Premium

Premium

Standard

Premium

Standard

UV Resistant

Premium

Premium

Standard

Standard

Standard

Premium

Standard

Call for Today's Specials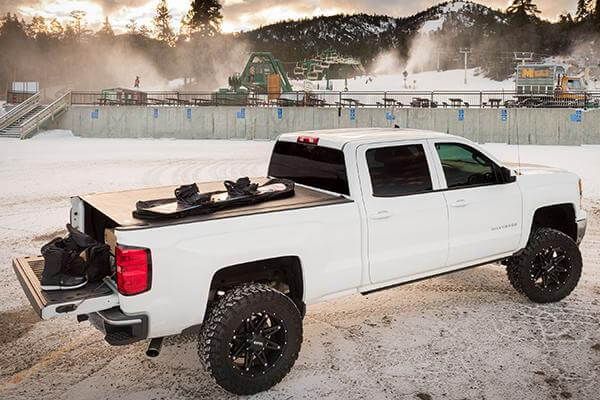 Whether you use your truck for work or for leisure, the BAK Revolver X2 tonneau cover has you covered. Being a hard cover, yet still having the ability to roll to your cab gives full bed access and is just what you need. BAK pulled out all the bells and whistles on this truck bed cover as it is constructed from high-quality materials and built for security.
The patented locking rails help provide full bed security as the hard cover is nearly impossible to get into! Trust us, no criminal is going to want to take something strong enough to cut through the sturdy aluminum slats! For them to take that kind of time and energy would just not be worth it. That means you can rest assured your cargo is protected. Seriously, these rails are 2X larger than the average size making them superior in performance and security. Not only is it guarded against thieves, but the elements cannot harm your precious goods either. Easily operate the cover from either side with the automatic slam latch and secure it when rolled up with the durable buckle straps. All of the supplied hardware is 3X thicker and heavier duty than the original Bak Roll-X cover to give added strength. When buying this X2 cover, you are not only getting all the perks of the Roll-X cover, but also the high-quality upgrades!
Quickly install the BAK Revolver X2 tonneau cover with an easy, clamp on installation process. The new and improved mounting plates automatically adjust the rails for a faster install. Get 100% full bed access by using one hand to roll the hard-rolling cover up to the cab of the truck. When rolled up to the cab, you can securely mount the cover with the anti-shifting buckles. Be able to give your truck a stylish look, yet still be completely functional! Order yours today!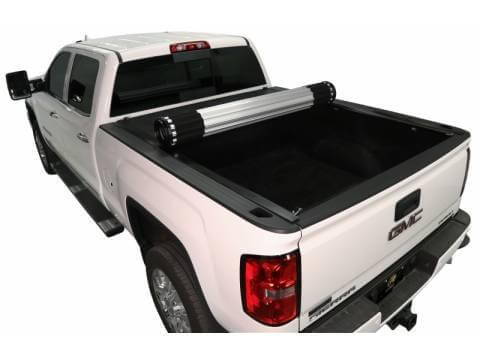 Not all models are listed. Please check with your local Leonard Factory Outlet for a complete listing of available models.